Maintenance Plans
L.A. Lifts Services' maintenance plans take the hassle out of owning forklifts and equipment. Preventative maintenance is the key to lowering the total cost of equipment ownership - and should something go wrong...we can take care of it.
Making the investment into preventative maintenance helps to maintain manufacturer warranties. While keeping equipment OSHA compliant.
The purpose of scheduled service is to minimize disruption to your business, to keep the equipment operating at its full potential, and to save money by catching the small repairs before they become expensive major repairs.
We have been practicing these principles since 1997 on our rental fleet. We can get 20-30,000 hours out of our rental forklifts without the need for any major engine, transmission, or differential repairs.
A guaranteed maintenance plan puts your equipment on our service calendar for the frequency you select.
By selecting the proper frequency, these service plans can help keep your forklift's factory warranty valid, OSHA compliant, and as productive as the day they were delivered.
With continued service you will enjoy the benefits of operating your forklift far beyond the normal useful life, greatly reducing the possibility of power train failure or other major expenses.
The 12 month level pay programs are designed to alleviate spikes in maintenance costs allowing you to calculate one low monthly payment into your budget. There are no additional charges for this service, just planned payments for your planned maintenance.
Click on the red plan title to find out more. Questions?...contact us.
30 Day Scheduled Plan
Recommended for multiple shifts or extreme environments
LPG Forklifts: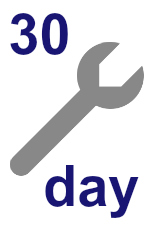 12 Preventive Maintenance Services
2 Transmission Services
1 Hydraulic Service
1 Differential Service
3 Adjustments (Inching & Clutch, Brake, Chain & Hose)
Electric Forklifts:
12 Preventive Maintenance Services
1 Hydraulic Service
1 Differential Service
3 Adjustments (Inching & Clutch, Brake, Chain & Hose)

Electric Pallet Jack:
12 Preventive Maintenance Services
1 Differential Service
---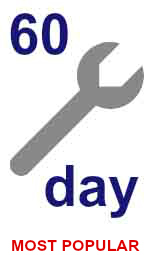 60 Day Scheduled Plan
Recommended for 6-8 hour day usage
LPG Forklifts:
6 Preventive Maintenance Services
2 Transmission Services
1 Hydraulic Service
1 Differential Service
3 Adjustments per Year (Inching & Clutch, Brake, Chain & Hose)
Top Off All Fluids
Electric Forklifts:
6 Preventive Maintenance Services
1 Hydraulic Service
1 Differential Service
3 Adjustments per Year (Inching & Clutch, Brake, Chain & Hose)
Top Off All Fluids

Electric Pallet Jack:
6 Preventive Maintenance Services
1 Differential Service
Top Off All Fluids
---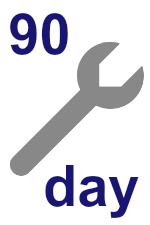 90 Day Scheduled Plan
Recommended for 4-6 hour day usage
LPG Forklifts:
4 Preventive Maintenance Services
1 Transmission Services
1 Hydraulic Service
1 Differential Service
3 Adjustments per Year (Inching & Clutch, Brake, Chain & Hose)
Top Off All Fluids

Electric Forklifts:
4 Preventive Maintenance Services
1 Hydraulic Service
1 Differential Service
3 Adjustments per Year (Inching & Clutch, Brake, Chain & Hose)
Top Off All Fluids

Electric Pallet Jack:
4 Preventive Maintenance Services
1 Differential Service
Top Off All Fluids
---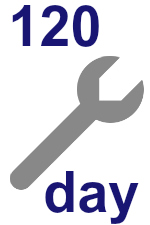 120 Day Scheduled Plan
Recommended for light usage
LPG Forklifts:
3 Preventive Maintenance Services
1 Transmission Services
1 Hydraulic Service
1 Differential Service
3 Adjustments per Year (Inching & Clutch, Brake, Chain & Hose)
Top Off All Fluids

Electric Forklifts:
3 Preventive Maintenance Services
1 Hydraulic Service
1 Differential Service
3 Adjustments per Year (Inching & Clutch, Brake, Chain & Hose)
Top Off All Fluids