Straddle Stacker Electric (Walkie) 8'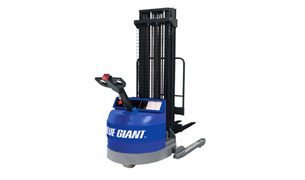 Capacity: 3000-4000
Lift Height: 8'
Warehouse use - a walk behind forklift utilized when pallet widths vary in size and exceed the existing straddle width setting; legs on the outside straddle the pallet.
Primary uses: lifts pallets onto racks or shelves
Surface capabilities: smooth
Receive the right equipment for the job. Call to discuss load types and warehouse limitations for your safety and accuracy.