Deep Reach Electric 240" (Stand-Up)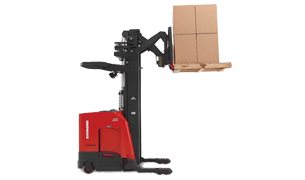 Capacity: 3000 - 4000
Lift Height: 240''
Warehouse use in narrow aisles and hard to reach forklift areas that are two pallets deep without the need for an attachment. Features a tight turning radius.
Primary uses: Moving products on and off of racking with a double depth reach
Surface capabilities: smooth
Aisle width: 9' wide and larger
Also Known As: Stand-Up Reach, Reach Forks, Narrow Aisle Reach, Double Deep Reach
Receive the right equipment for the job. Call to discuss load types and warehouse limitations for your safety and accuracy.