Electric Pallet Jack | 6000 lbs (Walkie)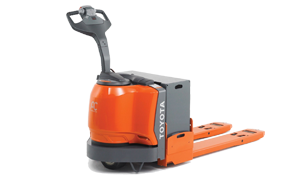 Capacity: 6000 lbs
Lift Height: 6"
Description: Single Pallet Walkie
Warehouse electric pallet jack lifts pallet only enough to clear the floor, while operator walks behind it.
Primary uses: moves pallet around warehouse
Surface capabilities: smooth
Receive the right equipment for the job. Call to discuss load types and warehouse limitations for your safety and accuracy.